this has to be the simplest tutorial of this painting phenomenon ever made, i did it in 25 minutes so the mini is not all that it can be so to say.
its all about colour theory and knowing that skin is not beige/brown/pink/whatever, its alot more complicated than that, in fact its to complicated to hastily recreate on a mini in this scale. but there is lots of colour in our skin that we take for granted and alot of people ignore them when painting it.
in this example i use a standard metal space marine scout from GW. the colours are from a variety of manufacturers and the colours are all over the place i guess.
skin colours:
P3 khardic flesh
GW Catachan green
P3 beaten purple
Rackham pearly flesh
GW skull white
teeth:
P3 Menoth white base
P3 Menoth white highlight
eyes:
P3 Menoth white highlight
GW chaos black
so to get a quick idea i created this picture of all the stages (kind of) and i will write some to complement it aswell.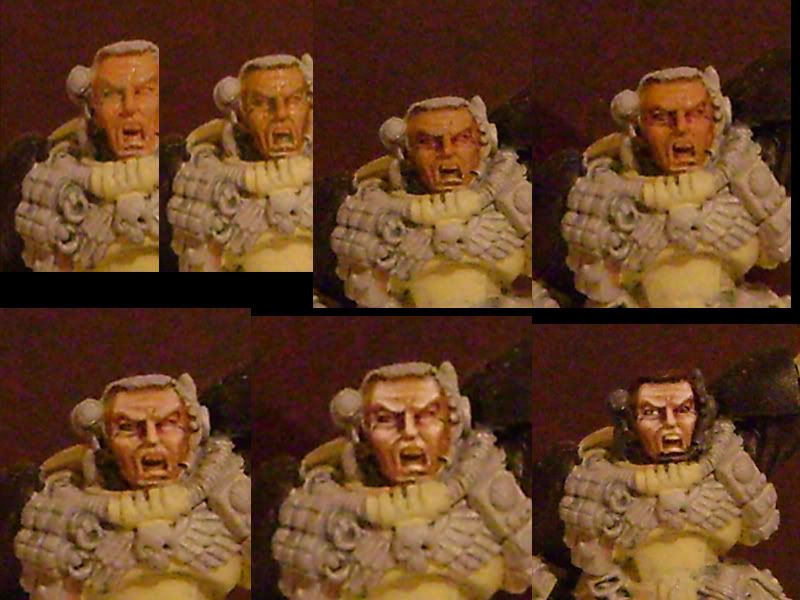 Picture 1
a fortress grey basecoat is covered with some khardic flesh, i use grey because i like it and i think it works best, matter of taste i guess.
pic 2
i shade this using the green as a wash, make sure you think about lighting when doing this as it will help later.
pic 3
the purple was added as a wash to the hollows of the eyes to make him look a bit angrier.
pic 4
clean up time, go back over the mini with khardic flesh. keep the shades in the recesses.
pic 5
this was taken after ive been mixing pearly flesh with khardic flesh for about 3-4 highlights always going one nuance lighter. do this up to pure pearly flesh.
pic 6
here i added white to the pearly flesh, going up to pure white, during these highlights stages the lighting is very important to remember. i use a zenithal light on this mini which means that the lightsource is situated somewhere above the mini (straight up).
pic 7
the eyes and teeth are painted, no need for any deeper instructions here i guess. the surrounding areas were given a basic coat to make the face stand out more and not look so messy.
im sorry the pic is a bit bad but hopefully you understand what i have done.
cheers and thanks for looking.